Quarks: the building blocks of matter is an activity based on a puzze devised at CERN. Its aim is to introduce to the students the laws that allow quarks to combine in order to form protons and neutrons, which constitute atomic nuclei, as well as other more exotic hadrons that are part of our Standard Model of particles. 
This activity can be adapted to the ages of the students by varying the complexity of the learning goals, which include the identification of the fundamental particles that appear on the Standard Model, their properties and the laws that dictate their interaction and how these particles combine into more complex ones. 
Recommended ages: from 10 to 18 years old.
Blocs Enllaçats
Dins de cada àtom, hi ha un nucli atòmic format per protons i neutrons. El nombre de protons, Z, defineix l'element químic del nucli. L'hidrogen té 1 protó (Z=1); el carboni en té 6 (Z=6) i així
fins a l'oganessi, l'element més pesat observat fins ara, que té Z=118.
Cada element pot tenir isòtops formats per nombres de neutrons diferents, N, que es caracteritzen pel nombre màssic A = Z+N. Els isòtops s'escriuen AX, amb el superíndex A, seguit del símbol, X, de l'element corresponent. Per exemple, 12C és l'isòtop de carboni amb A=12 partícules i té, per tant, N = A-Z = 6 neutrons. El carboni té altres isòtops, com el 14C, que es fa servir en datació nuclear.
Per representar tots els isòtops en una sola figura, els físics nuclears fem servir la taula de Segrè, amb el nombre de protons a l'eix de les y i el de neutrons, al de les x. Cada isòtop es representa com un punt en aquesta taula.
L'activitat consisteix en construir la taula de Segrè fent servir blocs de LEGO©. 
Edat recomanada: +12 anys.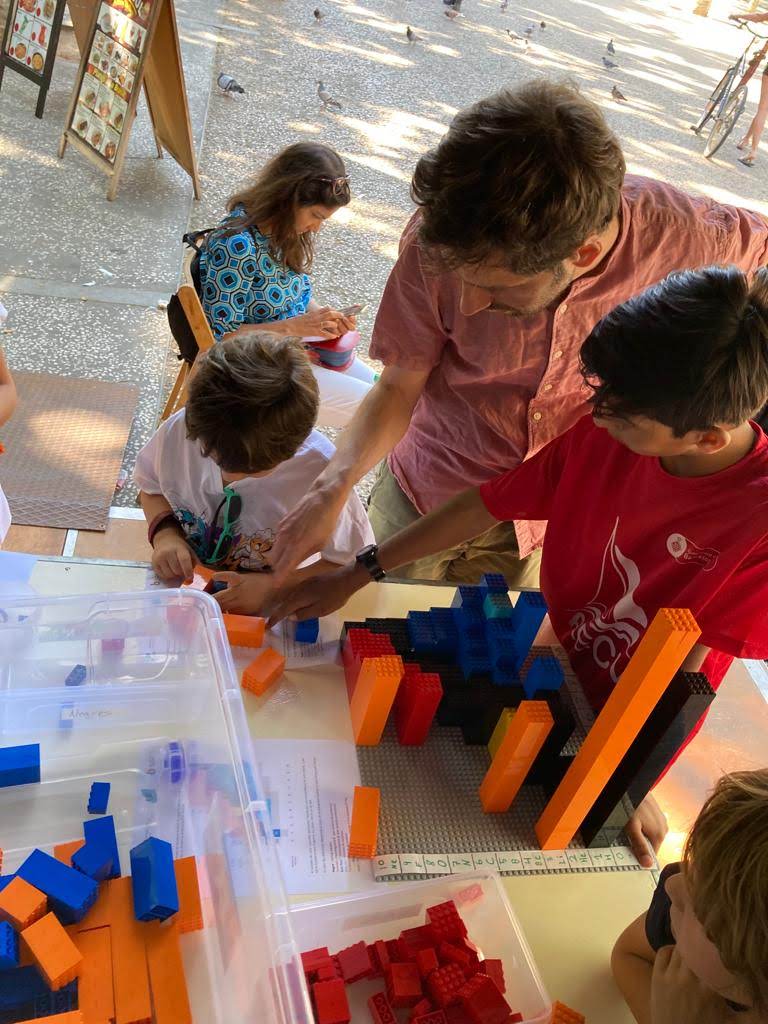 Quarks: els Maons de la Matèria
Quarks és una activitat basada en un trencaclosques en tres dimensions dissenyat pel CERN. Està pensada per introduir als alumnes les lleis que permeten combinar les peces, els quarks, per tal de formar els protons i neutrons que constitueixen els nuclis atòmics, així com altres partícules més exòtiques.
L'activitat s'adapta a l'edat dels alumnes variant la complexitat dels objectius d'aprenentatge, que inclouen la identificació de les partícules fonamentals que apareixen en el Model Estàndard, les seves propietats i les regles que permeten la combinació d'aquestes partícules en d'altres més complexes.
Es tracta d'una manera molt visual d'entendre l'estructura subatòmica de la matèria i aprofundir més enllà de les partícules que ens són més conegudes.
Edat recomanada: +12 anys.